Rev. Michael Cochran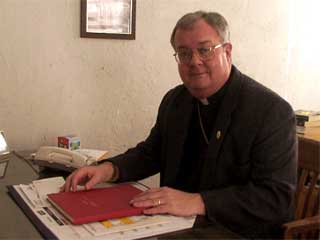 Hello, I am Fr. Mike Cochran, the Rector of the parish. I was appointed Rector in 1990 after serving as an associate for three years. Christ Church is a parish in the Episcopal Missionary Church and uses the 1928 Book of  Common Prayer in its services of worship.I graduated from Otterbein College and Capital University Law School. I received the Masters of Theology degree from the Methodist Theological School of Ohio and I did additional work at the Episcopal Seminary at the University of the South in Tennessee. My prior work experience includes being a teacher (high school social studies) and a coach. I have been the Executive Director of the Ohio Township Association for twenty three years. On a personal level, I've been married for thirty six years and have two adult daughters. Christ Church was founded in 1977 and has been faithful to the historic catholic faith. Our worship services are traditional following the model of the Christian Church since its beginning two thousand  years ago and is biblically based with all our preaching based on the biblical lessons assigned by our lectionary. Once again, welcome to Christ Church. Please visit us, make yourself known, and enjoy the fellowship.
Rev. Wale Fafiade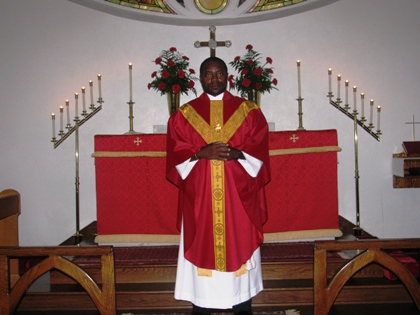 Father Wale Fafiade was born in Lagos, Nigeria. He was baptized at All Saints Church in Lagos and raised in an Anglican family. At an early age, Wale felt the call to become a Reverend Father, even though, as Wale stated, "That was confusing to my family since only Catholic priests were so addressed in Nigeria and we are Anglicans. Little did I know I was going to live in the United States and ultimately end up in an Episcopal church were priest are addressed as Fathers." After completing his high school studies in Nigeria, Wale came to the United States in 1986 to continue his education. He attended St Ambrose University Davenport Iowa, a Private Catholic school, for two years before transferring to Franklin University in Columbus, Ohio where he studied engineering. Wale joined Christ Church Anglican in 1988. He married in 1993 and has 3 children. He became a Lay Reader in 1998, and a member of the Vestry in 2003. On August 11,2007 Wale, along with Lynn Blackburn, was ordained as a Deacon. Then in October 2008, Wale was ordained a Priest in a ceremony that was presided over by Bishop William Millsaps, Bishop of the Episcopal Missionary Church. He currently serves as Treasurer for Christ Church, while his wife is a Sunday School teacher and his son is one of the Church Acolytes. He is the President of Sabina Systems, a computer consulting company, and an avid soccer and golf player.
Rev. Lynn Blackburn
I was born into a Methodist family where church attendance was mandated by my father and carried out by my mother. I distinguished myself here by attending Sunday school for 11 years without missing a single week. With the changing of years came a changing of pastors at our church and with each change, a change in philosophy that became increasingly difficult to keep up with. After high school graduation I went away to school in Minneapolis and continued attending church regularly though now sampling several different churches. I did not find any of these substantive and after moving to Detroit to work for Delta Airlines, I stopped looking for a church altogether. Rather than being drafted into the Viet Nam era Army, I chose to enlist in the Air Force. Like everyone else, I attended church regularly in basic training. Upon my discharge from the Air Force I returned to my hometown of Columbus, Ohio and a disillusionment with religion began to grow inside of me. My wife, Alice, was raised an Episcopalian but became upset with the changes sweeping through that church beginning in 1977. Then she heard about Christ Church Anglican and after she attended services there, she encouraged me to come along. I am very thankful to my wife and Christ Church for being there for me. Thanks to the friendship and mentoring of our parish priest, Father Mike, I have not only learned more about Christianity than I thought possible but, more importantly, I have learned about; faith, hope and charity – things you cannot learn from books. The time that I spent away from church being ended by my finding Christ Church has inspired to help others who are searching for a church with substance. Because my life has been graced with Father Mike's presence, Christ Church and the Anglican faith, I cannot just selfishly sit back and enjoy this. I must continue Christ's work in any way that I can. My quest to give back for what has been generously given to me led me to a new plateau on August 11th, 2007, when I was ordained into the Sacred Order of Deacons. From here I will continue to search, seeking to spread Christ's words and teachings.